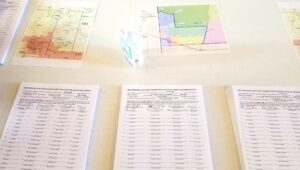 The best places to gather petition signatures are where there are groups of people: malls, big box stores, supermarkets, in-person board meetings of any kind, even places of worship (outside, of course and be respectful). Take petitions with you when visiting family; get everyone to sign. Go to Democrats in your neighborhood.
Make sure all your Ward members sign.
The best place to get petitions are the websites of the candidate(s) for whom you want to petition.
Things to KNOW:
Each voter who signs the petition needs to be a registered Democrat in Santa Fe County (in the case of the Congressional race, they may be registered anywhere in CD-3 as redistricted.) 

Signers must PRINT CLEARLY IN BLUE OR BLACK INK and make sure that their name and address is exactly as it appears on their voter registration form. For example, "Bill" may be registered as "William."

If two or more people from the same household sign, they need to fill out the address each time.

No other marks beyond what the signee is required to enter can be on the sheets.

If a signer asks, let them know that they can only sign one petition for contested elections, or it will be invalid on each petition where it appears.
Be respectful – and smile: See content on this very subject
Regarding judgeships: In New Mexico,  At this writing, there are no contested judgeship races. However, they still must present nominating petitions signed by 2 percent of the total vote of the Democratic Party in the district. 
Please help! Due to the recent redistricting, there isn't a lot of time. Do your part for democracy. You'll be glad you did.