Dear Friend,
I hope you and your family are doing well and staying safe this week. As we wrap up another week in Washington, I have some important updates to share on the historic investments that I was proud to secure for New Mexico's national labs.
HISTORIC INVESTMENTS FOR NATIONAL LABS
This week, the Senate made clear that our national laboratories are vital to advancing our scientific and technological leadership on the world stage. The bipartisan CHIPS and Science Act, which just passed the Congress, includes numerous victories for New Mexico and our country that I fought hard to secure.
This legislation invests $16.5 billion for our national labs, including Sandia and Los Alamos in New Mexico, for critical research and development in key technologies, in addition to nearly $15 billion that I secured for necessary updates and upgrades to enhance their capacity to address 21st century challenges. The CHIPS and Science Act also expands successful programs to foster the next generation of science and tech entrepreneurs, and allows small businesses to access state-of-the-art facilities at the national labs
Through these historic investments, our national labs will continue their leadership in developing cutting-edge technology, maintaining our national security and global competitiveness while creating more skilled, good-paying jobs in New Mexico and across the nation. Read more here.
THIS WEEK IN WASHINGTON
Earlier this week, I introduced the Secure and Fair Enforcement (SAFE) Advertising Act, which will allow radio and television stations to accept advertising for legal cannabis products if licensed in a state with adult-use cannabis advertising laws already in place.
As more states enact common-sense cannabis legislation, it's crucial that radio and TV stations can accept advertising without fear of losing their license. As chair of the Communications Subcommittee, which oversees the FCC, I'm proud to introduce this legislation with the support of broadcasters across New Mexico and the country. Read more here.
Next, I voted to advance critical legislation that will enhance and enforce online privacy protections for children and teenagers because it's clear social media will continue to be a huge part of our children and teenagers' lives.
Tragically, these social media companies have capitalized on this opportunity by manipulating our personal and private data to shore up their own profits, while ignoring the consequences. That's why it's critical that Congress acts urgently to create legislative guardrails that give users control over their personal information while holding Big Tech accountable for harm to our young people's health and our democracy. Read more here.
Lastly, the Senate took strong bipartisan action to pass the Water Resources Development Act (WRDA) – legislation that authorizes Army Corps of Engineers water projects nationwide. As the climate crisis continues to threaten New Mexico communities in the form of catastrophic wildfires, dangerous flooding, and prolonged drought, water is a vital resource in New Mexico. I'm pleased the legislation acts to strengthen and maintain our water infrastructure and provides our communities with water that is safe to drink and use. Read more here.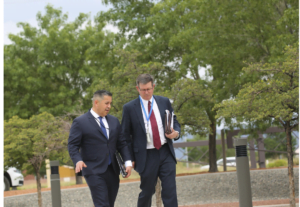 STAY UP-TO-DATE
My office has updated the Wildfire Resource Guide to include the most recent federal and local resources for New Mexicans impacted by wildfires. This information and other important application deadlines can be found on my website at lujan.senate.gov.
My team has continued to monitor developments while working closely with local officials and first responders to keep New Mexicans safe. For any assistance, please visit lujan.senate.gov or call 575-252-6188 or 202-224-6621.
MEDIA CENTER
Because of our work and the ability to cross the aisle and bring colleagues together, we were able to defend these important national lab investments that will benefit New Mexicans. While creating more opportunities at Los Alamos and Sandia National Labs, the CHIPS and Science Act will attract more public capital and financing, to work with entrepreneurs from our labs to create more small business opportunities. Read more about the investments I fought hard to secure in the Santa Fe New Mexican, KOB, and the Santa Fe Reporter.
STAY CONNECTED
For assistance, you can reach out to my office at 575-252-6188 or 202-224-6621. If you would like to keep in touch, please follow me on Facebook and Twitter, or visit my website at lujan.senate.gov. 
Sincerely