Former Congresswoman Gabby Giffords  (D-Arizona) came hand in hand down the stairs of the Democratic Coordinated Campaign headquarters Sunday with Gov. Michelle Lujan Grisham to remind at least 100 enthusiastic Democrats that the fight is not over to end gun violence in our country.
A survivor of the 2017 Las Vegas, NV mass shooting, Amanda Getchell, described the horror of the event and the gratitude of surviving it. Getchell now lives in New Mexico and is married with a small daughter, Mila. Amanda says surviving the event motivated her to become a gun safety activist and she supports and is proud of the work the governor is doing to keep New Mexico children safe.
Read more about it as covered by The Santa Fe New Mexican:  CLICK HERE
MLG pointed to the progress New Mexico has made in sensible gun regulations including red flag laws, which permit police to petition the court to order the temporary removal of firearms from someone who they believe may present a danger to others or themselves.
County Commission Anna Hansen handed Giffords a resolution passed by Santa Fe County urging Congress and the State Legislature to enact common sense gun regulations. Gun violence disproportionately affects women of color and minorities whose neighborhoods are racially segregated. In 2019 New Mexico had the fourth highest rate of gun deaths in the nation.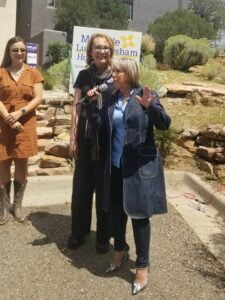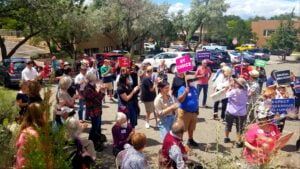 The event was followed by active door-to-door canvassing and phone banking at headquarters and from people's homes.